Facebook advertising
BOOST YOUR GROWTH WITH FACEBOOK ADS
Facebook advertising is an effective way to build your brand and reach new users to grow your business. Our data-driven specialists ensure that your campaigns achieve the best possible results from your campaigns. Here you can read more about Facebook marketing and synergies with Instagram advertising. Are you interested in learning more about how Beet can help your company with Facebook ads? Contact us for the chance to win a free micro health check by using the form below.
BEET: THE COMPLETE FACEBOOK ADVERTISING COMPANY
- A reliable partner with a huge passion for digital marketing
- Help with everything from content production to strategy and follow-up
- Solutions tailored to your specific needs and goals
- Benefit from synergies with other digital channels
- Beet is a fully authorised Meta Business Partner and constantly updated on the latest best practices
Why work with Beet for Facebook advertising?
Beet is a digital marketing agency with experienced specialists in a wide range of channels and industries. We work actively with Facebook marketing services to reach the right target groups and build engagement. Our data-driven specialists will invest your media budget where actual numbers show that it will generate the best results.
HOW CAN BEET HELP YOU WITH FACEBOOK MARKETING?
Set a strategy tailored to your company's needs and goals
Set up an advertising account with the right tracking and payment solution, or develop and optimise your existing account
Design campaigns aligned with your strategic plan
Tips and advice when producing content
Help with Facebook ad copy
Continuous management and optimisation of your advertising account – based on KPI targets
Regular analysis and reporting of results
Continuous evaluation and enhancement of your campaigns
Training in Facebook marketing for your staff
Beet is a digital marketing agency that offers specialist competence in all digital marketing channels, including YouTube, SEO and marketing automation. Our digital marketing specialists collaborate closely across channels to enable you to achieve the greatest possible return on your digital marketing investment.
What happens when Beet is your Facebook ad agency?
We analyse your current situation and get to know your company and your challenges
We develop a strategy and plan future campaigns based on your goals
We work continuously with your campaigns, both short-term campaigns and always-on campaigns
We provide regular feedback, reports and presentations of results
Contact us to find out how we can work together to maximise the impact of your social media marketing. Every month, we offer a free micro health check to a number of prospective clients. Just select "I want a micro health check" in the contact form below.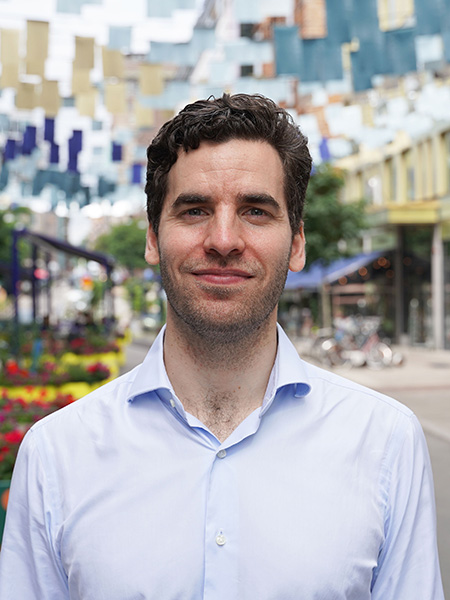 SENIOR PAID SOCIAL SPECIALIST
David Svensson
ADVERTISE ON FACEBOOK & INSTAGRAM
Would you like to know how Beet can help your company with marketing on social media? We'd love to take a closer look at your company to see which platforms are best for your needs and goals. Just select "I want a Micro Health Check" in the contact form below and tell us more about your company for the chance to get a free paid social check-up.
Contact us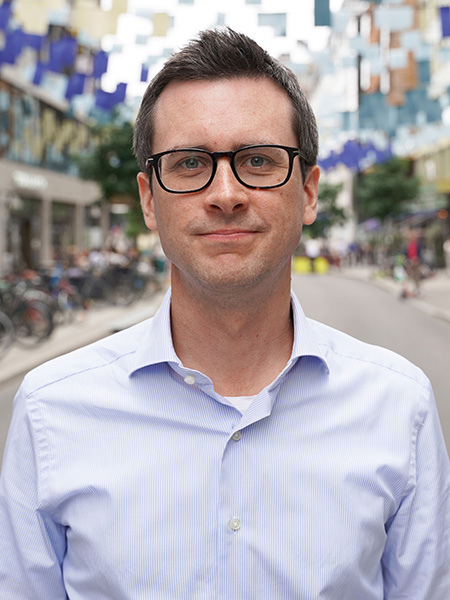 SENIOR DIGITAL ANALYST
Martin Frönmark
HELP WITH YOUR DIGITAL ANALYSIS
Continuous testing and analysis of data is one of the primary keys to success with your digital marketing. Would you like to know how we can help you with digital analysis? Contact us - we'd love to tell you more.
Contact us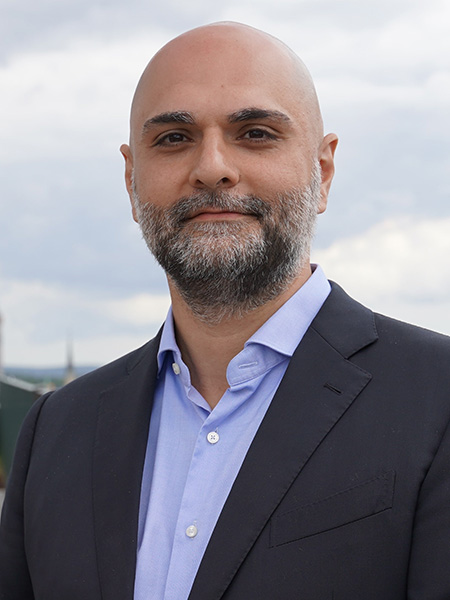 DIGITAL MARKETING STRATEGIST
Saeid Sasan
SUCCEED WITH YOUR DIGITAL STRATEGY
Our experienced digital strategists will help you to develop a strategy based on dynamic working methods and give you the power to compete in an ever-changing world. Contact us to find out more.
Contact us
SOCIAL MEDIA
Read more about other social media channels and how Beet can help you succeed with marketing on these platforms.
Synergies between Instagram and Facebook
Facebook and Instagram are both owned by the company Meta. Advertising through Meta includes placement in the Audience Network, an advertising network that also involves websites and apps. Additionally, Messenger is also included. Advertising on Instagram and Facebook is managed using the same tools. We almost always include both platforms in our social media advertising, as that usually generates the best results. By advertising on both platforms, we reach larger target groups that usually complement each other. We can then also optimise your advertising based on which platform achieves the best results. Advertising on both platforms is a cost-effective way to reach a large percentage of users on social media. It is also time-efficient, as you can use the same material for both Facebook ads and Instagram ads.
In order to be able to advertise on Facebook, you need to have an organic Facebook page and have a Facebook pixel installed on your website. We will help you set this up if you don't already have it, otherwise we will make sure that it is set up correctly. We can help you with everything you need to succeed with Facebook advertising and Instagram advertising, such as creating a product feed and a catalogue in the Facebook Catalog Manager, which can be used for carousel and agregate ads, as well as for dynamic product ads.
When advertising on Facebook, A/B testing is vital. Our specialists A/B test campaign objectives, target groups and ad designs continuously to ensure our work is constantly driven by actual data.
We talked to Marcus Uggla, General Manager of Man of Kind, to find out more about "the magic sauce" and how Beet helped them to achieve more profitable digital growth.
Read more
Why should you work with Facebook advertising?
Facebook is the social media platform with the highest number of daily users. This means you can reach a large percentage of social media users through Facebook advertising. Compared with traditional marketing and other social media channels, Facebook advertising is generally more cost-effective.
Another key advantage of advertising on Facebook is that it enables you to reach users who are not familiar with your brand. You can also aim your advertising at existing customers through retargeting, for example people who have visited your website, interacted with your Facebook page or are on your customer lists. By setting a clear strategy based on your business needs, you can create a conversion funnel that generates a high conversion rate.
Advertising on Facebook also includes advertising on Instagram and Messenger, as well as advertising space on websites and apps outside of Facebook. This is known as the Audience Network.
Beet can also help you with marketing on other social media platforms, such as Twitter advertising, Snapchat advertising, LinkedIn advertising, TikTok advertising and Pinterest advertising.
Certifications & Partnerships
Our certifications guarantee that we offer quality services to our clients. Our specialists receive continuous training to ensure that they remain at the forefront in a rapidly changing and developing environment. Here you can read more about our partnerships and certifications.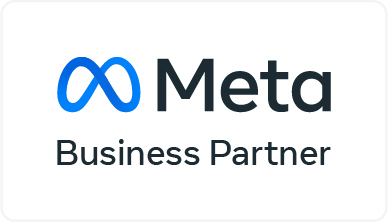 Target groups for Facebook ads
There are several ways to build target groups for Facebook ads, including:
Your Facebook followers
Facebook page views
User engagement
Demography
Users' interests or behaviour
Lookalikes
A lookalike target group consists of people who have similar characteristics to an existing target group that you have chosen, i.e. a customised target group. A customised target group can come from different data sources, for example your website, customer lists, app activity or Facebook sources such as Instragram accounts, your Facebook page, lead forms, events, shopping or Instant Experience.
USE FACEBOOK
80% of Sweden's population uses Facebook
VISIT FACEBOOK
53% of internet users use Facebook daily
FACEBOOK ENGAGEMENT
Engagement on Facebook is 18% higher on Thursdays and Fridays
Facebook ad formats
Choosing the right ad format depends on what your goals are. Ads also need to be adapted according to the platform they are shown on.
Instagram ads can be in the form of:
Image and video ads
Carousel ads with multiple image cards
Aggregate ads
Organic posts promoted through Ads Manager
Dynamic Product Ads, (DPA), which require you to have a product catalogue This enables you to show your products to customers who looked at the products and/or added them to their shopping cart but did not buy
Vad är en pixel och varför bör du använda dig av en?
Det finns vissa nödvändigheter för att lyckas med annonsering på sociala medier och pixeln är en av dem. Men vad är egentligen en pixel? Och hur kommer det hjälpa dig i ditt arbete? Det går vi igenom i den här artikeln.
Read more
Contact us
Do you want to know how our services can help you achieve your business goals? Get in touch below.
info@beet.se
+468-409 260 00