Local SEO maximises your local visibility
Local SEO focuses on appearing in the search results for local searches or search intentions. To optimise for local SEO, you need to have an SEO-optimised website and to register your company correctly in Google My Business. With local SEO, you can be seen at exactly the right time by a customer who is keen to convert. Below we describe the benefits of local SEO, what types of business it is most suitable for and how it works.
Share:
What is local SEO?
Local SEO search engine optimisation for appearing in the search results for local searches or search intentions. You optimise your website for a specific geographical area, e.g. a district or city. Local search engine optimisation means optimisation for both Google's organic search results and map results.
What are local searches?
LOCAL SEARCH INTENTS OFTEN INCLUDE LOCAL KEYWORDS
In the case of local search intentions, i.e. users who are searching for a product or service in a specific place, it is crucial for local businesses to be visible. A local search contains keywords that indicate location, for example "dentist Newtown", "children's clothing High Street" or "café near me". A person who does a local search is often close to conversion.
SEARCHES CAN BE LOCAL EVEN WITHOUT A LOCAL KEYWORD
When working with local SEO, the aim is for your business to be visible even when the search phrase itself does not contain a local word. If a person who is near your cafe performs a mobile search using only the word "cafe", there is a strong probability that they want to go to a cafe right then and there. With local SEO, the person's current location can be matched with your business, and your cafe will then appear in the search results.
Local SEO increases your chances of visibility
Using local SEO means you don't have to compete with general searches on Google. Say you run a dental clinic in Newtown. When someone in Newtown searches for "dentist", you don't want to have to compete with every dental clinic in the country in the search results. And when someone searches for "dentist Newtown", you want Google's algorithms to understand that your clinic is in Newtown so that your website is shown. If you have worked with Local SEO, it is much more likely that you will be appear in the search results.
Why should you work with local SEO?
It gives you greater visibility in Google's organic search results and in Google Maps
It reaches customers at the right time and in the right place
It enables you to appear in more than one place in the search results
It brings free traffic
46% of all searches on Google have a local search intent
76% of all people who search locally on Google visit the place the same day
Who Needs Local SEO?
Local search engine optimisation is important for those companies that have a bricks and mortar business. Surveys show that search patterns are moving toward more and more local searches, which presents many opportunities to increase your visibility. In order to attract new customers and retain existing ones, it is vital to appear in as many relevant local searches as possible.
Examples of such businesses include:
Cafes, restaurants and bars
Shops
Tradespeople
Hairdressers and beauty salons
Snack-pack/Map-pack
When someone does a local search, as a rule, part of the map result is always displayed before the organic results. The map result has room for three results that are not advertisements. These are usually called snack packs or map packs.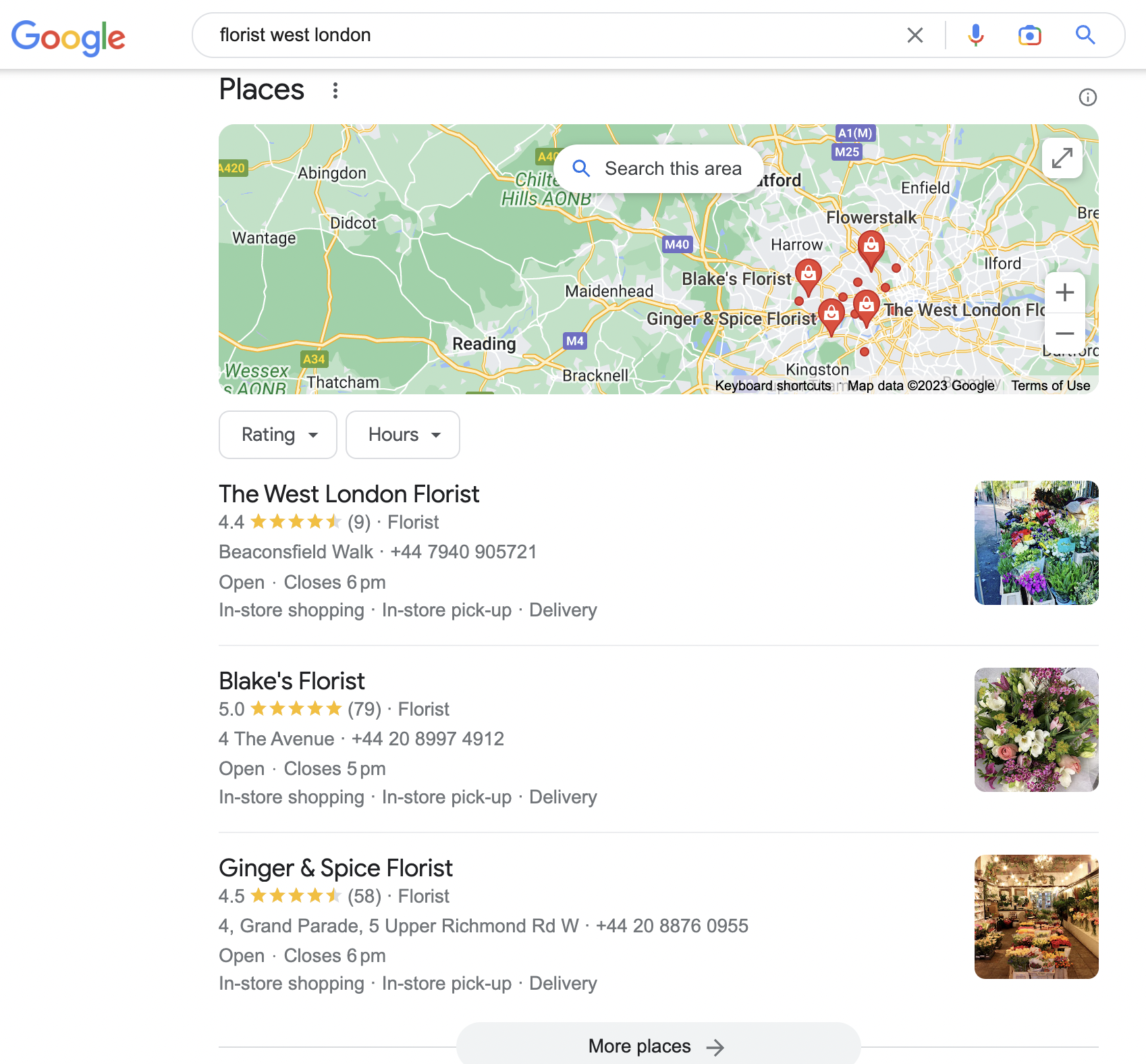 Below the snack pack comes the normal search result. According to research, on average a third of all clicks go to the snack pack, and about 40% to the organic search result. With local SEO, you can be shown in both the snack pack and in the normal search results - and thus maximise your chances of the customer choosing you.
How does local SEO work?
Optimising for local SEO is done in two ways. You need to have an SEO-optimised website to be visible in the normal search results, and you need to register your company correctly on Google My Business in order to be shown in map searches and in Google's snack pack.
In addition to the usual SEO ranking factors, Google also uses other ranking factors when it comes to local search results. Factors that Google takes into account that differentiate local searches from traditional searches include:
The current location of the person who is searching
NAP citations (company Name, Address, Phone number)
Google My Business listings
Keywords in Google My Business profiles
Tone and keywords in reviews
The number of check-ins at businesses
Shares on social media
Google Maps star ratings for businesses
The location of the searcher and the use of local keywords in searches are the main factors that influence how the search results are displayed. As Google's algorithms take into account the location of the searcher, searches for "café" in a big city can give completely different results in snack packs if you move just a few hundred meters between searches.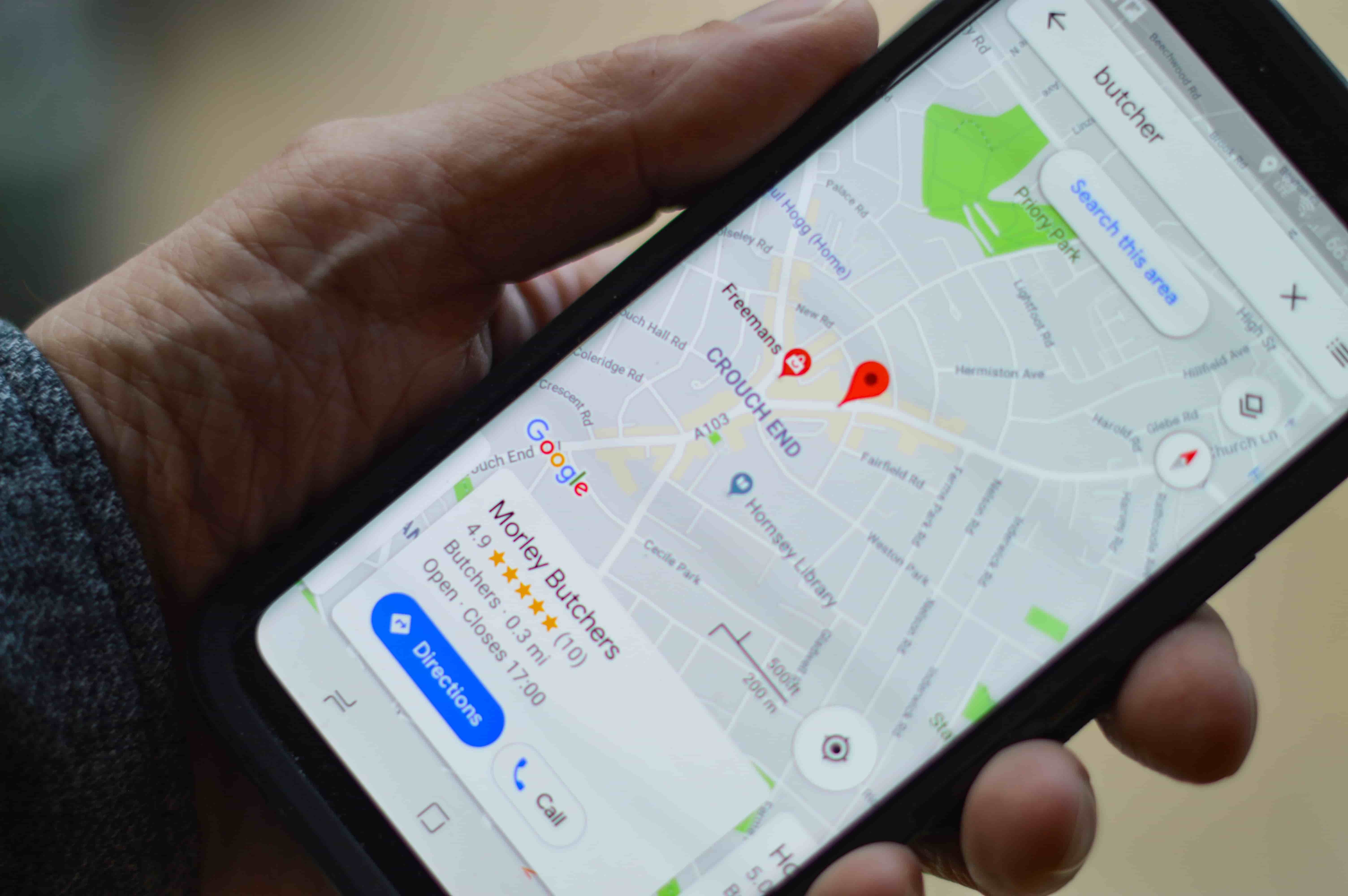 GOOGLE MY BUSINESS - TO APPEAR ON GOOGLE MAPS AND SERPS
Creating a business profile on Google My Business is free of charge and it enables you to be visible on Google Search, Google Maps etc, listing company details directly in the search results and displaying photos you or your customers have added. You can respond to reviews to increase customer engagement and improve your chances of a high ranking.
In order to be visible for all the cities/areas you operate in, your Google My Business profile needs to cover all the areas and keywords you want to be visible for. For example. a business located in the suburbs of a city can also be relevant for searches in the city centre. In these cases, it is important to optimise for visibility for both locations.
If your business is active in several geographic locations, you need to have a separate Google My Business profile for each location. To achieve maximum visibility, the profiles need to be optimised according to Google My Business guidelines and for keywords that match your business. These can be keywords that are directly focused on a specific business, such as "plumber nearby", or search phrases that are relevant to the business, e.g. "Burst pipe in Newtown" for a plumbing firm in Newtown.
OPTIMISED LANDING PAGES ENABLE YOU TO APPEAR IN ORGANIC SEARCH RESULTS
In order to be able to rank organically for local searches, you need to create landing pages on your website for the places business is located. If your company has shops or offices in three different cities, each location needs a separate page, both to enable you to rank highly in organic search results and to be able to connect the landing pages to Google My Business.
The landing pages could be, for example:
company.com/newtown
company.com/oldtown
company.com/bigtown
If you only do business in one place, the greatest potential lies in working with landing pages for more specific search phrases, such as "hairdresser Newtown women", "hairdresser Newtown men" and "hair extensions Newtown". A keyword analysis will help you to find the right keywords and the potential for your particular business.
Get even greater visibility by advertising on Google
With local SEO, you can be shown in two places in the search results, but if in addition to your local SEO you also work with advertising on Google, you can be seen in three places:
In the paid ads at the top of the page
In the organic search result
In a Google My Business listing or in the snack pack
How can Beet help you with your local SEO
Beet's digital marketing specialists have long and broad experience of all aspects of SEO. We can help you with analysis, strategy and creation of SEO content tailored to your particular needs. Within local SEO, we can help you with:
Identifying relevant keywords for each area
Recommendations for an SEO-friendly URL structure
Designing a strategy that matches your needs
Creating page titles, writing meta descriptions and making content recommendations
Optimising your Google My Business profile
Continuous maintenance and reporting
Training in SEO and local SEO for your staff
Link building to improve your ranking
Contact us using the form below and we'll tell you more.
The different stages of the digital customer journey
Here we describe the different stages of the customer journey, give examples of how you can meet the customer through digital marketing at each step and discuss the challenges you may face along the way.
Read more
Contact us
Do you want to know how our services can help you achieve your business goals? Get in touch below.
info@beet.se
+468-409 260 00